Mrs. Veldman came to school today and did not look like she felt very good.  When I asked her what was wrong, she said, "I'll tell you the truth…I have a terrible ache in my tooth."  First I made a connection–I told her that this reminded me of one of my favorite Shel Silverstein poems, Crocodile's Toothache. Next, I did what any reasonable principal would do:  Sent her straight to the dentist.
This meant that I got the best job of all:  Taking over as the guest teacher in her first grade classroom!  We were very busy reading, and writing,  spelling and so much more.   The first graders did an excellent job helping me to know the routines…and also assisting me with finding all the items I misplaced throughout the day.
I must tell you that these children are absolutely brilliant in every single way.  Their READ TO SELF time was so quiet and focused that I lost track of time and accidentally let them read one more minute than was allowed for–a whopping 21 minutes! (There was only room to mark 20 minutes on the bar chart…so we had to problem solve to add the extra minute.)
We used fourth grade math (double digit subtraction) to figure out our minutes read throughout the day.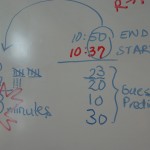 They were quite good at figuring out how to do this…and even shared their math strategies aloud.  (Although I did tell them to not try double digit subtraction on their own!)
Enjoy a few great photos from the day.   It was perfect and fun in every way.  And…Mrs. Veldman…we do hope your tooth is feeling better!
Thank you first graders for being such great teachers for your guest teacher.
Hugs from Mrs. Reagan