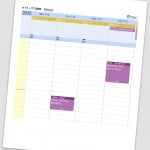 As we head into the week before spring break, please note that there is NO SCHOOL on Friday.  Spring break for all Hudsonville Schools begins on Friday, April 3.  We will resume school on Monday, April 13.
One of our goals this week is to get as many LOST items in our LOST & FOUND back to their rightful owners.  The bins are filled with snowpants, jackets and sweatshirts.  Mr. Rob will be spreading the lost and found out on tables in the hallway, and teachers will be encouraging students to search for items.
I hope you have a great week…and a very restful spring break!  Mrs. Reagan
Mon 3/30 Day 1:  Happy Monday!
Tues 3/31 Day 2:  Music Therapy:  ECSE, CI in MPR 1:30-3:00 pm; Visitors from Northview Public (10:30-12:00 pm—inquiring about interventions)
Wed  4/1: Day 3.. LOCKER CLEAN OUT
Thur 4/2  Day 1:  Happy Thursday!  Remember, no school on Friday!