Happy Rainy Friday Georgetown Parents!! 


NEWS FROM THE OFFICE………  Well hopefully you all enjoyed your week off.  I know I sure did.  I know you might think I am crazy…… but….. I am starting the countdown until Summer vacation!!  Believe it or not… we ONLY have 39 SCHOOL days of school left.  This is just unbelievable to me.  Prepare yourselves  as this time will fly by!  We do have one reminder from the office for this week's news….. we have been seeing a steady increase of students coming down to the office for snacks on a daily basis.  If you could please do your very best to send in a snack with your student that would be extremely helpful.  Thanks for your help in this matter.  : )
POPCORN FRIDAY HELP NEEDED…….. The PTC is in EXTREME need of a few volunteers to do our next popcorn Friday which is NEXT FRIDAY, APRIL 19!!!  As of today we do not have any volunteers for this and if no one steps up it will be canceled.  : (  The students really look forward to this too.  If you are able to help please contact Jamie Ham ASAP.  662-7245 or 405-6235 or via email at cjham20@gmail.com  Please contact her between 9:00a – 12:30p.  Thank you!!
APRIL LUNCH MENU……. the April lunch menu and an extra deposit slip are attached.    April 2013 Hud Elem    Deposit Slip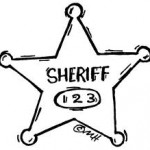 SCHOOL SAFETY……. The Ottawa County Sheriff's Department is implementing an adopt a school opportunity for their officers.  We are fortunate enough to have TWO officers adopt Georgetown Elementary.   Mrs. Valerie Weiss, who is a parent at Georgetown and Mr. Mike Petroelje, who has children at Baldwin Middle and Bauer and also teaches our S.A.V.E. program here, are officers with the Sheriff's Department.  The purpose of this will be to have a presence of security on our campus.   Mrs. Weiss or Mr. Petroelje may be seen occasionally in our parking lot, at our entrance or in our building.  We appreciate Mrs. Weiss and Mr. Petroelje adopting us and look forward to seeing them around.  Please greet them when you see them around Georgetown. : )
5th GRADE NEWS………… Please…..Make sure to keep check the dates below as we add things occasionally. This week there is a new date of 4/29. It is that time of year again to start adding important dates to the calendar for your 5th grader.  The time from here until the end of the school year is going to fly by for you……. so hold on tight!   Here are some upcoming dates that you will want to keep track of.
IMMUNIZATIONS NEEDED FOR 6TH GRADE…… Please read the attachment in regards to immunizations that are needed for your child to enter 6th grade.  OCHD 6th grade imms flyer Jan 2013
April 17 ~ Baldwin St Middle School Parent Information Meeting at 7pm in the Cafeteria. For Band/Orchestra families only.
April 18 ~ Riley St Middle School Parent Information Meeting at 7pm in the Cafeteria.  For Band/Orchestra families only.
April 29 ~ Student/Parent BMS Orientation Night…..BMS would like to welcome incoming 6th graders (current 5th graders) AND their parents on Monday, April 29th from 7:00-8:30pm.  This will be an overview of the 6th grade experience and will begin in the gym, followed with a chance to ask questions, visit classrooms, and tour the building.  Mr. Powers, Principal, Mr. Murphy, Assistant Principal, and Counselors, Mrs. VanZalen and Mr Arnoys will all be there ready to meet you!
PTC NEWS……… STUDENT ART SHOW…….  Hello Georgetown Families!  The 13th Annual HPS Student Art Show will be held April 22-25 at the Hudsonville City Hall Community Room.  There will be a special reception for Georgetown artists on Tuesday, April 23 from 5:30-7:30 p.m.  Please know that if you can't make it on Tuesday, you are welcome to visit the art show any other evening or during the day from 8:00 a.m. – 5:00 p.m.   Please see the attached flyer for more information – don't forget our new show location in the lower level of the Hudsonville City Hall on 3275 Central Boulevard!  2013 Art Show Flyer PDF
MOTHER/SON BASEBALL BONANZA………. Please save the date…. SATURDAY, MAY 4 @ 6:30 PM.  We will be going to the Whitecaps!! : )   More information to come soon!!
COMMUNITY NEWS….. FAMILIES THROUGH ADOPTIONS…….. Families Through Adoptions has a wonderful opportunity next week for you and for us.  On Tuesday April 16th Emily Helder, PhD, will be speaking on her research, which looks at the long term impact of orphanage life on brain development.  This program will be held at the 28th Street Schuler Book and Music store at 7pm.  Please join us and learn about this important topic.  After sharing the results of her research project she will be available to answer your questions.  If you decide to add to your library, Families Through Adoptions will also benefit, as Schuler will donate 20% of most purchases if you just mention our name at the check-out.  Schuler has set aside the week of April 14th through April 20th for this fund raising event.  The funds we earn will be applied towards educational services for families and will help to defray the costs of our accreditation process.  Please consider attending this event and help support Families Through Adoption by purchasing a book or two.  For more details call Char at 616-242-9696.
FEEDING AMERICA MOBILE FOOD PANTRY……… Free Food, Thursday, April 18 , 6:00 – 7:00 PM.  Feeding America West Michigan Mobile Food Pantry will be at Hudsonville Congregational United Church of Christ, 4950 – 32nd Ave. The food is free to those in our community who are struggling in these tough economic times. There will be an assortment of food, consisting of fresh seasonal produce and other high quality grocery items. If you have questions or need more information please call 616-669-1295. 
MOTHER'S DAY BOUTIQUE………  The Hudsonville Orchestra Parents Association (HOPA) is holding a Mother's Day Boutique on April 27th at the HHS Gymnasium.  This event is open to any vendors who would like to purchase a 10′X10′ space to sell their products to members of the community.  If you have any questions or concerns, please email Heidi at hopaboutique2013@gmail.com.
TASTE OF HUDSONVILLE……… On Saturday, April 20, the Hudsonville Band Boosters will be sponsoring the fourth annual "Taste of Hudsonville" in the Hudsonville High School gym from 2-5pm. This community-wide event will showcase food from area restaurants as well as the instrumental music talent of the Hudsonville Band program. In addition, a silent auction and 50/50 raffle will be held.  Tickets can be purchased daily in the Hudsonville High School and Middle School offices and at the Avon Store in Hudsonville. Advanced sale tickets are $12 for adults, $10 for seniors (age
62+) and $5 for children (age 4-12). All tickets are an additional $2 at the door.  Last year this was a SOLD OUT event, so get your tickets early!!!
FREE ELECTRONICS RECYCLING DROP-OFF……… The Hudsonville Venturing Crew 2146 is hosting a free electronics drop-off event at South Blendon Reformed Church, 4817 Port Sheldon, Friday May 10 from 4pm-7pm and Saturday May 11 from 8am-3pm.  This event is in cooperation with Michigan electronics recycler Comprenew.  All electronics will be either recycled, refurbished or reused.  (Computer hard drives will be wiped or destroyed for security).  Acceptable items include cell phones, radios, microwaves, VCRs, TVs, computers, printers, power cords, electric power tools, GPS units, telephones, answering machines, speakers, etc. (no light bulbs, air conditioners or large appliances).  For a complete list of accepted items go to www.comprenew.org.  Please take this opportunity to properly dispose of unwanted, obsolete or non-working electronics.
CHALLENGE OF CHILDREN…….. Challenge of Children is an annual parenting conference held at Hope College on May 16, 2013 from 9 am to 3 pm. This year our keynote, Dan Seaborn will be sharing on practical ways to build a healthy family. This conference also includes 40+ breakouts with topics such as Discipline 101, Kids Yoga, Parenting with Love and Logic, Living with Food Allergies, Planning for College, Enjoying Your Teenager and Your Child's Online Footprint.  Register online atwww.challengeofchildren.org or call 616-796-1504 for a brochure.  Please read the attached flyer for more info and to see the Registration form.  Challenge of Children 2013 Flyer (1)
HOST FAMILIES NEEDED……... Still in DESPERATE NEED of host families!!  We still need to place 30 students by May 25. Host Families are needed (of any size, age, etc.) to open up their home for 4 or 6 weeks this summer for students ages 12-18 from Spain who are coming to this area to practice their (already good) English.  The 4-week program is June 26-July 24, and the students attend activities every Tue/Thu out of Hudsonville.  The 6-week program is June 25-August 6, and these students do not attend any activities but only live with the host family.  Both programs are flexible and students may go on vacation or to summer camp with you.  Students come fully insured and with their own spending money.  Host Families are also needed for the school year for public or private high schools. Please contact Mayah Bischoff at mayah.bischoff1@gmail.com or 662-0050 for more information.
HUDSONVILLE ROCKET CHEER………. Is your daughter going into 1st-8th grade next fall and interested in cheering? Hudsonville Rocket Cheerleading will be having their first sign up date on Monday, June 3rd from 6-9pm at the Hudsonville Freshman Campus cafeteria. The cost of registration is $75 and includes an end of year banquet and trophy.  An additional uniform cost applies for those that do not have one.  Used uniforms will be available on a first-come-first-serve basis.  The 1st-6th grade girls will be cheering at the Hudsonville Youth Football games and the 7th & 8th grade girls will be cheering at the Hudsonville Club Football games. Check out the Hudsonville Rocket Cheer Website for more info (www.hudsonvillerocketcheer.com).  If you have questions about the program, please contact me. Call Coach Britni at 616-634-9580 or e-mail hudsonvillerocketcheer@gmail.com.  I look forward to seeing you at registration!
HOMES NEEDED FOR REFUGEE TEENS……… There is a pressing need for families who are willing to host refugee teens from Africa and Central America, who, because of violence and persecution have been separated from their families and forced to flee their homes. If you are interested in learning more about Bethany Christian Services, Refugee Foster Care Program, call (616) 224-7540.
COMMUNITY ED NEWS…….   Hudsonville Community Education has many offerings for your kids.  For more information or to register, please visit www.hudsonvillepublicschools.org or call Rebecca at 669-7747, ext. #3.  Here are some of the activities being offered currently:
Gymnastics/Dance/Cheer
Learn to Swim
Learn to Skate
Golf Lessons
Stroke School (Swimming)
Young Rembrandts Drawing
UPCOMING EVENTS
4/17 ~ Marco's Pizza Night
4/23 ~ Georgetown Art Show at Park Elementary
5/7 ~ 4th Gr Field  Trip/Frauenthal Theater
5/8 ~ 2nd Gr Field Trip/DeGraf Nature Center
5/9 ~ Kindergarten Field Trip/Outdoor Discovery Center
5/15 ~ Marco's Pizza Night
5/16 ~ ECSE Field Trip/Teusink's Farm
5/16 ~ PTC Meeting 6:30pm
Enjoy your rainy April weekend!
Mrs. Nurenberg : )