It is hard to believe that we are getting ready for our newest group of pre-kindergarten and kindergarten students.   It is time for us to get the word out about enrolling children for the 2010-1011 school year.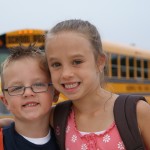 If you have a child that will be in PK or K next year, please mark your calendar for          March 9, 2010. There will be the option to attend a day time program at 10 am  (held at Alward, South or Jamestown).  The material will be the same for all schools, simply held at these locations for those that must attend during the day.
All schools will host evening Round Ups at 7 pm.

Georgetown's meeting will be in the Multi-Purpose Room.
If you know a neighbor who has an upcoming PK or K child, please encourage them to complete the registration information and health appraisal form.  These forms are turned into the school office.
REGISTRATION PAPERWORK
INFORMATION ABOUT SCREENING (Held on March 16 and 17) AND CURRICULUM PROGRAMS
Mrs. Reagan